Some of conditions causing spine pain. We strictly advise to take spine & pain specialist opinion on diagnosis & treatment.
Spondylosis
Spondylosis is a broad term that simply refers to some type of degeneration in the spine. Most often, the term spondylosis is used to describe osteoarthritis of the spine, but it is also commonly used to describe any manner of spinal degeneration. As with many other terms to describe spinal problems, spondylosis is more of a descriptive term than it is a clinical diagnosis.
The patient may have pain from facet joint osteoarthritis, spinal stenosis (an abnormal narrowing of the spinal canal, which is creating leg pain when the patient walks) or could be caused by degenerative disc disease, in which a degenerated disc that becomes dehydrated and loses some of its function. The degenerated disc can cause low back pain or neck pain, and possibly leg pain or arm pain.
Slip Disc / Disc Herniation
Although people often refer to a disc herniation as a slipped disc, the disc doesn't actually slip out of place. Rather, the term herniation means that the material at the center of the disc has squeezed out of its normal space. Herniation occurs when the nucleus in the center of the disc pushes out of its normal space. The nucleus presses against the annulus, causing the disc to bulge outward. Sometimes the nucleus herniates completely through the annulus and squeezes out of the disc.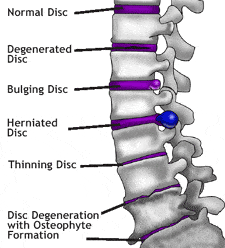 Sciatica / Lumbar Radiculopathy
The term sciatica describes the symptoms of leg pain—and possibly tingling, numbness, or weakness—that originate in the lower back and travel through the buttock and down the large sciatic nerve in the back of each leg.Sciatica is not a medical diagnosis in and of itself—it is a symptom of an underlying medical condition. Common lower back problems that can cause sciatica symptoms include a lumbar herniated disc, degenerative disc disease, spondylolisthesis, or spinal stenosis.
Disc Degenerative Disease
Disc degenerative disease refers to symptoms of back or neck pain caused by wear-and-tear on a spinal disc. In some cases, degenerative disc disease also causes weakness, numbness, and hot, shooting pains in the arms or legs (radicular pain). Degenerative disc disease typically consists of a low-level chronic pain with intermittent episodes of more severe pain. Painful disc degeneration is common in the neck (cervical spine) and lower back (lumbar spine). These areas of the spine undergo the most motion and stress, and are most susceptible to disc degeneration.
Spinal Stenosis
In the medical field, stenosis means the abnormal narrowing of a body channel. When combined with the word spinal, it defines a narrowing of the bone channel occupied by the spinal nerves or the spinal cord. Some people are born with a congenital form, but most develop spinal stenosis as part of the degenerative cascade. A few do not feel any effects of the narrowing, but as part of the aging process, most people will eventually notice radiating pain, weakness, and/or numbness secondary to the compression of the nerves or spinal cord. While the narrowing may occur at different parts of the spine, the symptoms of nerve compression are often similar. That is why specialists often will perform testing to determine the cause and location of the narrowing.
Pain after spinal surgery/Failed back surgery syndrome
Failed back surgery syndrome (FBSS), also known as post-laminectomy syndrome, describes a chronic, painful condition that some patients after undergoing back surgery, specifically a laminectomy or microdiscectomy. Failed back surgery syndrome Syndrome is not a diagnosis, but rather a general term to describe a variety of chronic pain syndromes experienced by patients as they emerge from back surgery. The exact cause of FBSS is unknown, however one prominent theory points to epidural fibrosis, in which the development of scar tissue during post-surgical healing compresses nearby nerve roots and causes pain.
Spondylolysis/Spondylolisthesis
Spondylolysis is a crack or stress fracture in one of the vertebrae, the small bones that make up the spinal column. The injury most often occurs in children and adolescents who participate in sports that involve repeated stress on the lower back, such as gymnastics, football, and weight lifting. In some cases, the stress fracture weakens the bone so much that it is unable to maintain its proper position in the spine—and the vertebra starts to shift or slip out of place. This condition is called spondylolisthesis. Patients who have persistent back pain or severe slippage of a vertebra, however, may need surgery to relieve their symptoms and allow a return to sports and activities.
Spinal Compression Fractures
The type of fracture in the spine that is typically caused by osteoporosis is generally referred to as a compression fracture. A compression fracture is usually defined as a vertebral bone in the spine that has decreased at least 15 to 20% in height due to fracture.These compression fractures can occur in vertebrae anywhere in the spine, but they tend to occur most commonly in the upper back (thoracic spine), particularly in the lower vertebrae of that section of the spine (e.g. T10, T11, T12). They rarely occur above the T7 level of the spine. They often occur in the upper lumbar segments as well, such as L1.
Cervical Radiculopathy
Cervical radiculopathy is the clinical description of pain and/or neurological symptoms resulting from any type of condition that irritates a nerve in the cervical spine (neck). When any nerve root in the cervical spine is irritated through compression or inflammation, symptoms of pain, tingling, numbness, and/or weakness can radiate anywhere along that nerve's pathway into the shoulder, arm, and/or hand. A cervical disc is herniated when its jelly-like inner layer, the nucleus pulposus, leaks out through a tear in the disc's protective outer layer. This could result from an injury or aging.A herniated disc may press against or pinch a cervical nerve, or the inflammatory proteins of the nucleus pulposus may come close enough to a nerve to cause irritation.
Cervical Disc Bulge
If the inner material of the cervical disc leaks out and inflames or impinges the adjacent nerve, it can cause cervical radiculopathy. If a younger person (20s or 30s) has cervical radiculopathy, the most likely cause is a herniated disc. When a disc in the cervical spine degenerates, the disc becomes flatter and stiffer and does not support the spine as well. In some people this degenerative process can lead to inflammation or impingement of the nearby nerve root. Cervical degenerative disc disease is a common cause of radiculopathy in people over age 50.
Cervical Facetal Arthritis
When the cartilage in a cervical facet joint wears down enough, it can lead to cervical osteoarthritis, also known as cervical spondylosis. Rather than having the facet joints move smoothly along cartilage as intended, they might grind bone on bone. The joint could become enlarged from inflammation and bone spur growth, causing a nearby nerve to become pinched or pressed. Sometimes confusion is created when general terms are used interchangeably to refer to cervical osteoarthritis, including cervical spondylosis, degenerative joint disease, or simply neck arthritis.
Sacroiliac Joint Pain
The term sacroiliitis is used to describe any inflammation in the sacroiliac joint, which is located on either side of the sacrum (lower spine) that connects to the iliac bone in the hip. Sacroiliitis is often found as part of a feature of inflammatory conditions of the spinal column. As a group, these conditions and diseases are termed a "spondyloarthropathy" and include conditions such as ankylosing spondylitis, psoriatic arthritis, and reactive arthritis, among others. Sacroiliitis is also a term that is sometimes used interchangeably with the term sacroiliac joint dysfunction, as technically either term can be used to describe pain that stems from the sacroiliac joint (or SI joint).
Piriformis Syndrome
Piriformis syndrome is a condition in which the piriformis muscle, located in the buttock region, spasms and causes buttock pain. The piriformis muscle can also irritate the nearby sciatic nerve and cause pain, numbness and tingling along the back of the leg and into the foot (similar to sciatic pain).
Trapezitis
Trapezitis is an inflammation caused in the trapezius muscles which further leads to pain and spasm in the neck. It is increasingly becoming common among people working at desk, using computers and also those who do physical labor or use their neck and back muscles a lot. It is necessary to know the causes and symptoms of trapezitis in addition to the treatment guidelines to be able to manage the condition well.
Consult Spinomax Pain & spine Center to find out best spine pain treatment for you.