Percutaneous Endoscopic Lumbar Discectomy (PELD) is a minimally invasive spinal technique that has several advantages over open microdiscectomy or Laminectomy, including less muscle injury, preservation of bony structures, and rapid recovery (1-4). PELD has become popular over the past few years for the removal of herniated disc material. The remarkable advancements of endoscopic techniques and instrumentation have led to successful outcomes comparable to those of conventional open spine surgery surgery & becoming gold standard for spine pain treatment(3,4,5).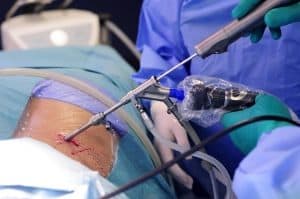 Postoperative mechanical back pain following open Microdiscectomy is not uncommon. Parker et al (6) reported that 32% of patients suffered above moderate back pain after lumbar discectomy, and 9% suffered severe back pain and subsequently underwent fusion surgery. In addition, Dvorak et al (7) report that 70% of patients suffered low back pain during long-term follow-up after Microdiscectomy. A recent study on the long-term outcomes of open lumbar discectomy shows that the outcome deteriorates over time; furthermore, increased back pain worsens clinical outcomes and is correlated with radiologic degeneration (8).
Advantages of PELD over open spine surgery are many as PELD avoids excessive nerve root retraction as well as preserving the lamina, facet joint, and posterior ligament structures. Comparison at glance:
Endoscopic Discectomy
Micro/Open Discectomy
Success rate

Very high success rate 90-95%

     

Low success rate 50-60%

Recovery

Immediate recovery, can walk after 3-4 hours

Delayed recovery, can walk after 3-4days

Hospital stay

1-2 days

5-7 days

Anesthesia

local anesthesia hence patients with comorbidities can also go for procedure safely

General anaesthesia & patient with comorbidities has increased risk of surgery

Incision

small incision (less than 1 cm), also reduces risk of infection

Large incision

Instability

No instability, as the structures that stabilize the spine – the ligaments and joints – remain unhurt.

Causes instability & may require Spine fixation in future

Tissue damage

Almost no tissue damage, risk of complications is very low

Very high rate of complication as significant tissue damage occurs

Wound healing

Quicker wound healing, as back muscles are not torn or cut

Delayed wound healing as Muscle, bones are cut

Blood loss

10-20ml

400-500ml

Rehabilitation

Immediate & short

Delayed & long
The indications for PELD can be extended to treat large complicated disc herniations. PELD demonstrated potential advantages, including a rapid recovery, improvements in back pain, and disc height preservation. Considering the anatomic structure, PELD utilizing a minimally invasive approach without injury to the back muscles, facet joints, or central nucleus may be an ideal surgical procedure for disc herniation, Slip disc, Spinal stenosis & many other condition giving rise to back pain with or without radiation to legs.
Refrences:
Ahn Y, Lee SH, Park WM, Lee HY, Shin SW, Kang HY. Percutaneous endoscopic lumbar discectomy for recurrent disc herniation: Surgical technique, outcome, and prognostic factors of 43 consecutive cases. Spine (Phila Pa 1976) 2004; 29:E326-E332.
Lee DY, Shim CS, Ahn Y, Choi YG, Kim HJ, Lee SH. Comparison of percutaneous endoscopic lumbar discectomy and open lumbar microdiscectomy for recurrent disc herniation. J Korean Neurosurg Soc 2009; 46:515-521.
Ruetten S, Komp M, Merk H, Godolias G. Full-endoscopic interlaminar and transforaminal lumbar discectomyversus conventional microsurgical technique: A prospective, randomized, controlled study. Spine (Phila Pa 1976) 2008; 33:931-939.
Yeung AT, Tsou PM. Posterolateral endoscopic excision for lumbar disc herniation: Surgical technique, outcome, and complications in 307 consecutive cases. Spine (Phila Pa 1976) 2002; 27:722-731.
Ahn Y, Oh HK, Kim H, Lee SH, Lee HN. Percutaneous endoscopic lumbar foraminotomy: An advanced surgical technique and clinical outcomes. Neurosurgery 2014; 75:124-133.
Parker SL, Xu R, McGirt MJ, Witham TF, Long DM, Bydon A. Long-term back pain after a single-level discectomy for radiculopathy: Incidence and health care cost analysis. J Neurosurg Spine 2010; 12:178-182.
Dvorak J, Gauchat MH, Valach L. The outcome of surgery for lumbar disc herniation. I. A 4-17 years' follow-up with emphasis on somatic aspects. Spine (Phila Pa 1976) 1988; 13:1418-1422.
Son IN, Kim YH, Ha KY. Long-term clinical outcomes and radiological findings and their correlation with each other after standard open discectomy for lumbar disc herniation. J Neurosurg Spine 2015; 22:179-184.